KANO LOGISTYKA

Transport and Forwarding

44-335 Jastrzebie-Zdroj
ul. Reymonta 23
POLAND

mobile phone :
+48 511 767 111
fax :
+48 32 720 20 50
gg :
2171356
TRANS comunicator :

242773-1

e-mail :
office@kanologistyka.pl
Contact Michal Onak :
michal@kanologistyka.pl
Welcome to the KANO LOGISTYKA website.
We specialise in service connested with transport, national and international spedition - full truck load, general cargo and ASAP transport.
Our great experience and well-qualified staff let us provide service of the highest quality.
It is important for us to deliver the loading safely and as fast as possible.
Every day we try to develop our work, introduce innovations and search for new logistics areas which let the company increase the potencial.
We also ensure that we do everything to bring the satisfaction to all our present and future Customers.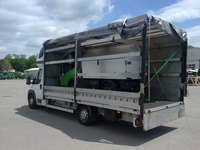 If you have any question do not hesitate to contact us.
We will answer with a great pleasure.